Imperfections in Solids
Constituent particles in crystalline solids are arranged in a short range as well as long range
order yet crystals are not perfect.
They possess small crystals have defects that are irregularities in the arrangement of constituent
particles in them when crystallization process occurs at fast or moderate rate.
These defects are of two types- point defects and line defects.
The irregularities or deviations from ideal arrangement around a point or an atom in a
crystalline substance.
The irregularities or deviations from ideal arrangement in entire rows of lattice points are known as line defects.
These irregularities are called crystal defects.
Point defects can be classified into three types: (i) stoichiometric defects
(ii) impurity defects and (iii) non-stoichiometric defects
Defects in Solid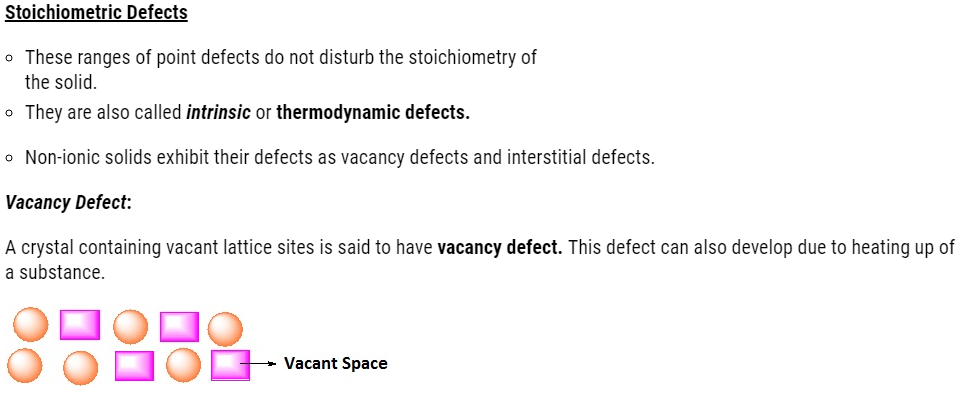 Electrical Properties of soilds
Solids exhibit electrical conductivities that extend from 27 orders of magnitude ranging from 10–20 to 107 ohm–1 m–1.
Conductors:
Solids with conductivities ranging between 104 to 107 ohm–1m–1 are conductors.
Metals have conductivities in the order of 107 ohm–1m–1 are good conductors.
For example, Iron, Copper, Aluminum.
A man touching the electric pole with a metal rod will get an electric shock because metal rod is a conductor whereas a man touching the same with a wooden plank will be safe because wood is an insulator.
Semiconductors:
Solids with conductivities in the intermediate range from 10–6 to 104 ohm–1 m–1.
For example, Gallium, Germanium, Silicon
Metals conduct electricity both in solid state as well as molten state.
The conductivity of metals depends upon the number of valence electrons available per atom.
The atomic orbitals of metal atoms form molecular orbitals that are close in energy to each other as to form a band.
Partial filling or overlapping with a higher energy unoccupied conduction band enables the electrons to flow easily under an applied electric field.
This results in conductivity of metals.
If the gap between valence band and the conduction band is large, electrons cannot jump to it and such a substance has very low conductivity that makes it behave like an insulator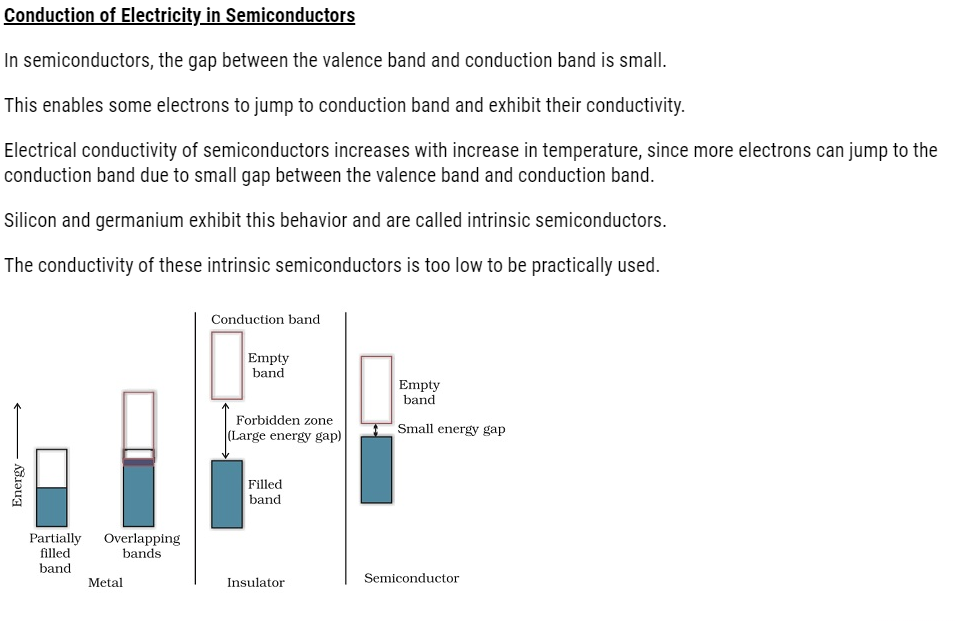 Number of cation vacancies in lattice of NaCl = Number of divalent Sr2+ ions added.
Concentration of cation vacancy on doping with 10-3 mol% of SrCl2. = 10-3 mol% = 10-3 / 100 = 10-5 mol.
Number of Sr2+ ion in 10-5 mol = 10-5 x 6.023 x 1023 = 6.023 x 1018
Hence number of cationic vacancies = 6.023 x 1018
Electron – rich impurities
In a periodic table Silicon and germanium belongs to group 14 with four valence electrons each. In their crystals each atom forms four covalent bonds with surrounding atom.
When doped with a group 15 element like P or As, which contains five valence electrons,
Applications of n-type and p-type semiconductors
n-type and p-type semiconductors finds a great use in manufacturing electronic components.
Diode is a combination of n-type and p-type semiconductors extensively used as a rectifier.
Transistors are manufactured by keeping a layer of one type of semiconductor between two layers of another type of semiconductor.
npn and pnp type of transistors are used to detect or amplify radio or audio signals.
The solar cell is an efficient photo-diode used for conversion of light energy into electrical energy.
Gallium arsenide (GaAs) semiconductors have very fast response and have transformed the design of semiconductor devices.
Transition metal oxides show marked differences in electrical properties.
TiO, CrO2 and ReO3 behave like metals.
Rhenium oxide, ReO3 resembles metallic copper in terms of its conductivity and appearance.
Certain other oxides like VO, VO2, VO3 and TiO3 exhibit metallic or insulating properties depending on temperature.
its spin around its own axis.
Electron being a charged particle undergoes these motions and can be considered as a small loop of current possessing a magnetic moment.
Therefore, each electron has a permanent spin and an orbital magnetic moment associated with it.
Magnitude of this magnetic moment is very small and is measured in the unit called Bohr magneton, μ B and is equal to 9.27 × 10–24A m2.
On the basis of their magnetic properties, substances can be classified into five categories:
Paramagnetic
Diamagnetic
Ferromagnetic
Antiferromagnetic
Ferrimagnetic.
Ferromagnetism
Ferromagnetic substances get strongly attracted towards magnetic field.
They can be permanently magnetized.
In solid state, the metal ions of ferromagnetic substances are grouped together into small regions and are known as domains that act as a tiny magnet.
In an unmagnetised ferromagnetic substance the domains are randomly oriented that cancels out their magnetic moments.
When placed in a magnetic field all the domains of the substance get oriented in the direction of the magnetic field producing a strong magnetic effect which persists even on removal of the magnetic field and the ferromagnetic substance becomes a permanent magnet.
For example, iron, cobalt, nickel, gadolinium and CrO2 are ferromagnetic substances.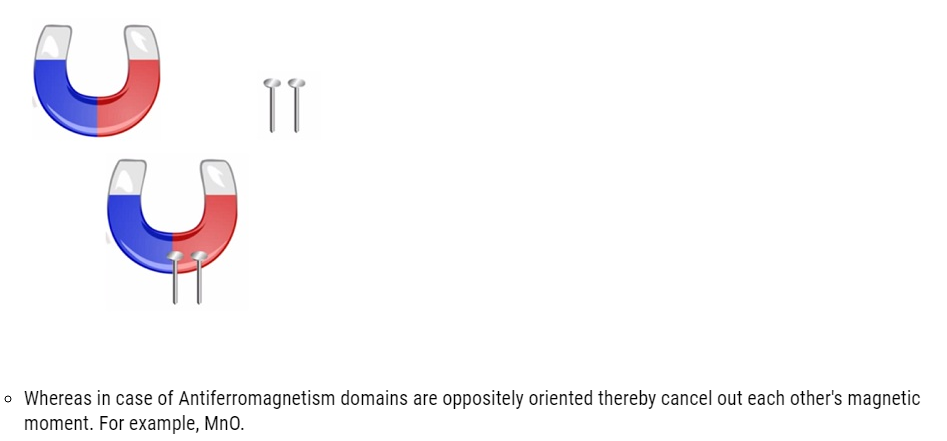 For Full Chapter Notes :
Download the Previous Year Question Papers
Let's Know the Interesting facts about Indian President
Most Interesting Cricketing Facts & Records.
Do You want to know about Indian Space agency and ISRO, Lets Find Out..
Also Learn Daily Use English Sentences to Impress your friends
Mohd Sharif
Mohd. Sharif Qualification : B.Tech (Mechanical Engineering) , Founder of Wisdom Education Academy. Teacher & Career Counselor Blogger, YouTube Creator